She who writes here:
Deanne Postma
Child of the 70s
Silly Teen of the 80s
New Wife and Mama of the 90s
Little Boy Wrangler of the 2000s
Multi-Tasker Life Manager of the
2010s


A little about me.


I am a bubbling brook that comes from deep waters. What this means is that on the surface I can come across as bubbly, fun, talkative, and friendly, but once you get to know me and what is deep inside you will find more depth than you see at first. My soul is old and my spirit is young. I have been married for 26 years and a mom for 22 years (3 baby boys have stolen my heart after their father first did). Collective years of mothering are eight years greater than my age (I love nerdy math). Family matters matter to me and I have a BS in Psychology/Family Studies from Corban University. Creative things excite me. I love light and the recording of life via photography. Sewing is therapy to me and gives me a sense of calm and helps me to reflect. Meeting new people is great and getting to know better the ones who are in my life is even greater. Hot-out-of-the-oven chocolate chip cookies rule my palette and Jesus rules my heart.
I write because there is a deep need within my soul to do so. I want to encourage and inspire others to seek, see, and know God through Jesus and the Word of God.
---
You Matter~

I would love (times a million} to read your comments here on this blog. I love to write because I think, you love to comment because you think, it's a win/win. I learn more about life because people share their point of view, I hope that I can do the same for you!

Subscribe
Powered by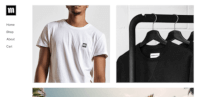 Create your own unique website with customizable templates.