All This In One Quilt
​
​

Putting a quilt in the county fair this last summer was a fun experience. I wasn't planning on entering my finished project and really didn't give it much though. To my surprise I won a second place ribbon! That was cool. So I got to thinking that it would be a fun project for me to make a quilt with entering it in the fair as a goal.

Months ago I designed a quilt online. I was just playing around on a site that had a simple quilt design maker and came up with something that I really liked. Thank goodness I downloaded the design to my computer because the site just shut down and it would have been lost forever.

I have since made a larger scale drawing of the quilt top and then created the different blocks. Tonight I gathered up the fabric that I have been collecting and took the shot above. A few pieces didn't make it in the picture but I got most of them. Yes, all of these will be a part of the quilt. Yes, they are different and don't seem to all go together. But I have a plan. I can see it in my head and I will show you as I go along.

This quilt will need a little explaining. I have thought up in my head the reason behind the design and then it morphed into a short story. I have the first draft, but it needs work. My plan is to chronicle my work here and show the steps and process that go into the making of this quilt. I also want to share the story as I go along and then when it is all finished I want to have the story her to download as a PDF. I'm great at planning, but hey, plans can always change right? My life has taught me to be flexible and do what you can do and leave the rest for another day.

I hope enjoy the process with me.


A New Project!
I'm excited to be starting a new project! This one is special because I'm making a sample quilt for the shop I work at. I have wanted to do something like this for a while and now I get to. I was allowed to choose my own fabric and my own pattern. Dreamy! I got to take this all home and not have to pay. Free quilting is a good thing. So for the fun of it I'm going to show the process of making a quilt here. I'm sure that you can find this info in other places on the web and in books, but I thought it would be fun to do it with one of my quilts.
​
**Addendum - My plan was to chronicle my quilt creation here. That didn't happen. This is the short version. I got all the fabric cut and neatly placed them in my sewing cottage (that I will share with you soon). The windows were open and on went the backyard sprinklers and it rained into my cottage. I was not happy, because what happens to fabric once it gets wet? It shrinks. I tried to save it. I laid it all out in my kitchen/dining room and hoped for the best.
Thor's little house seemed like a good place to dry fabric. Unfortunately, wet fabric does shrink even when not in the dryer. The shrinkage was only 1/8 of an inch, but it was a problem. Make's me think of the Seinfeld episode with George and shrinkage! Too funny. I have three sons and a husband, so my humor is a bit tainted.

I had to go back to the shop and get more fabric. Luckily, this quilt was for a shop sample and I didn't have to purchase the fabric. So once I had what I needed I cut, measured, cut, sewed, seam ripped, sewed, took apart, fixed and more and more of all of that. Finally I finished! This is my first quilt shop sample!
​
The shop owner, my boss Diane, had it sent to the long-arm quilter and she did a beautiful job quilting it. I received it back and put on the binding and it is now hanging in the shop. It is so nice to have something to show customers that yes indeed I am a quilter when ladies ask me if I quilt. I seriously want to answer with my smart-mouth-side of the brain and tell them, "No, I'm into guns." But now I can be more lady like (and socially acceptable) and say, "Why yes, I started quilting as a teenager in the 80's and if you turn around and look up there...... that is one of my quilts." (Insert nice smile)

​Some say the proof is in the pudding, but I say the proof is hanging on the wall!
​
It's All In My Head
Months ago I was searching online for a website that would allow you to design a quilt on their site. I really want to have the program EQ but I can't justify the price. I'm always looking for frugal ways to do what I want to do. It does take some extra work to figure stuff out on your own, but because I haven't had the funds to just go buy what I want it has pushed me to be creative and that is a really good thing. (OH! This just popped into my head, Martha Steward saying "It's a good thing")

In my quest, I found a site called Pattern Jam and spent time one night playing around with placement of blocks and colors. How fun! I created something that was different than I have yet to see and that got me pretty excited. I am not a follower. I don't like to buy patterns. It is more fun for me to make up on my own how I want my design to look.

After letting this design sit on the website for a while, I decided to go ahead and save a copy of it to my computer. Boy was I glad to have done that! The website just shut down and I would have lost my design. Over the past month I have been recreating the pattern on paper and drawing out how each block will look. This isn't a design of repeating blocks. It is sort of like a sampler quilt, on point, with a twist. I now have the compete pattern design in one graph paper notebook and feel confident that I can make this thing in my head become an actual living breathing quilt. Um, no, not living breathing actually, just a real inanimate object that you can touch.

Now the fun part! I have been buying the fabric. Oh how I love to buy fabric. It is like an artist choosing tubes of colored paint with the anticipation of the painting that he/she wants to create. To me the fabric of my quilt tells a story. It conveys the message of the quilt. I put my head into my quilts. Sometimes it is simple. For example the quilt that I made above, the one for the shop, I wanted it to sing a happy song. When the bright colors of a specific fabric line came into the shop and I got to witness each bolt being unwrapped, I was so in love with the bright bold colors and different patterns. Pumpkin orange, bright blue, Christmas red, and grass green were the colors and it reminded me of the rainbow! When I was a girl I would draw rainbows on everything. Getting a new set of Crayola markers would make my heart sing. Fabric now makes my heart sing because it is bursting with creative possibilities. I secretly want to be a fabric designer, but I'm not so good at drawing. My boys have told me that all my drawings look the same. Thanks guys.

My goal is to write as I go and share the makings of this quilt. This quilt has a story to tell. Really, I have a story to go along with it that I plan on writing. This quilt will be different and will need some explaining!

Powered by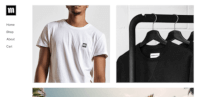 Create your own unique website with customizable templates.